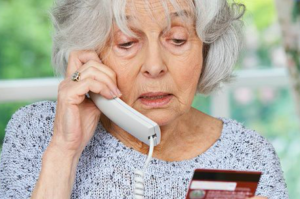 As a group, senior citizens are more at risk of being victims of fraudulent scams and financial abuse than the general population. This is especially true if they are isolated, lonely, grieving, or suffering from mental or physical disability.
Some seniors have difficulty dealing with financial matters and unwittingly become involved in scams. Others become victims of a family member who is unemployed or has a substance abuse problem.
Financial abuse and scams are serious concerns as they deprive seniors of hard-earned assets and savings that they are rarely able to recover from financially if they have limited incomes.
The Facts about Financial Abuse on Seniors
We are all subject to attempted cons, but older people are identified as easy marks, making them more frequently targeted by both strangers and, in many instances, family members, friends or neighbors.
Older people are often pressured into giving money and/or assets to a family member or friend who claims to be in need of financial assistance. Sadly, financial abuse from family and friends often goes unreported. Older people may feel a sense of obligation to help family members or the person they rely on for care and fear of losing them.
Older Americans are also less likely to report fraud because:
They may not know who to report it to,
They feel too ashamed to say anything,
They may remain unaware that they have been scammed,
They may be concerned that relatives will think that they have lost their ability to handle their own affairs.
A 2011, Met Life study on elder financial abuse stated that the majority of senior fraud victims were between 80 and 89 years of age, lived on their own, and required some level of help with either health care or home maintenance. It further found that most seniors had savings accounts, many owned their own homes, and that women were twice as likely as men to be victims of financial abuse.
The study went on to say that defrauding seniors accounted for 2.9 billion in losses annually. These losses created health care inequities, fractured families, and created instances of mental health problems among seniors.
Repercussions of Being Scammed
Protecting seniors from fraud and financial scams is incredibly important as the damage can be deep and long-term. Seniors who have been victims of fraud or even an attempted fraud, experience some or all of the following:
Physical and emotional problems
Inability to recover financially
Loss of independence
Diminished quality of life
Increased worry
Withdrawal
Feelings of shame
Educating the Seniors in Your Life
As we grow older, our lives tend to diminish in terms of outside contacts. Increasingly, we rely on those we trust to help us.
An important way to protect the elderly people in our lives is to encourage and facilitate open communication about aging before a crisis occurs.
Elderly people often receive tons of solicitations. Due to the way they were raised, many of them feel compelled to respond, especially if the mail is addressed to them personally.
Solicitations for donations and the urge to give is great among seniors, so monitoring mail is a huge factor that can help protect your aging relatives. Mail fraud is on the rise, so it's best to pay bills electronically and to use direct deposit for social security and pension checks.
Talk about these options with your elderly parents or relatives. Provide the information they require to feel confident about these ways of dealing with money and help them set things up that way if they are not already set up electronically.
Encourage seniors living on their own not to give work to people who come to their door claiming that they can perform repairs but need money upfront. They should not pay before any work is complete.
You can also help them to understand that they should never give any personal information over the phone. If you set up an answering service, you give them the ability to screen calls so that they do not have to deal with unpleasant or hassling calls from fraudsters or hard-selling agents.
Most importantly, check in often to see how things are going. Have the necessary conversations to ensure your loved one's safety while respecting their ongoing desire to be as self-sufficient as possible.
Keeping Seniors Safe
Aging is a process of change that we need to realize step by step if we are to be successful at helping those we love to age gracefully.
Addressing facts before or as they become apparent helps us to have the tough conversations and address necessary changes to protect our aging relatives and their ongoing physical, emotional, and financial well-being.